In an era of increasing regulatory scrutiny, businesses in the crypto and online gaming industry need to implement efficient Know Your Customer (KYC) and Anti-Money Laundering (AML) processes in their signup flows.
In this article, we'll look at the pros and cons of each from a cost perspective, and help you make the right decision to build 100% compliance KYC flows that boost conversions and save you millions of dollars
in the long run.

Choose Wisely: Three Strategies for Your KYC Journey
Approach
Meaning
Motivation
In-house development
Leveraging existing resources, such as development and user experience (UX) teams, to build a customised KYC/AML compliance flow from scratch.
100% control in the development
and maintenance of KYC flows.
Stitching together multiple 3rd party solutions
Buying separate solutions for different parts of the compliance process – data collection, data verification, data authentication, PEP & sanction watchlist, transaction monitoring, and reporting and record-keeping – and patching them together internally.
Immediate needs, gaps in internal expertise, or technological limitations,
End-to-end customer onboarding and KYC software
Onboarding an A-Z KYC software that takes care of all your sign up and compliance needs in one go.
Reduced costs, ease of use, increased speed-to-market,
Is KYC Outsourcing Worth It? The Perils of DIY Signup Flows
Many organisations are tempted to build a KYC flow in-house, as the desire for complete control and optimisation can be alluring. There is also a common myth that it's cheaper to use inhouse resources rather than spending money on third-party software.
However, this approach comes with higher costs, compliance issues, and security concerns.
Development costs
To build a data driven and personalised registration flow, you need a team of developers. At the minimum, hiring 2 developers over a 6-month period can cost somewhere around €90k (€7,500/mo/developer x 2 developers x 6 months).
Additionally, you also need to consider the opportunity cost during these 6 months. While you can quickly develop a flow and bring in conversions with an all-in-one KYC software, you will need to forego these conversions during the in-house development phase.
At Checkin.com, we've seen that our end-to-end customer onboarding and KYC software delivers an average of 18% conversion uplift on our partners' existing signup flows.
Assuming we deliver 1,000 completed registrations and a Customer Lifetime Value (CLTV) of €500, the value created at 18% conversion uplift is €90,000 per month (1,000 * 18% * €500 = €90,000). This is the revenue you will be foregoing when building an in-house flow.
| Development Phase | Monthly one-off costs |
| --- | --- |
| 1. Cost of product development | €15,000/mo x 6 months |
| 2. Alternative cost during development | €90,000/mo x 6 months |
| Sum of cost and lost value during development phase | €105,000/mo x 6 months |
In-house solutions also often have unpredictable pricing. According to a McKinsey survey, large IT projects exceed their budget 45% of the time and deliver 56% less value than planned.
Maintenance costs
Additionally, there are ongoing expenses for maintenance, bug fixes, upgrades, and migration to consider.
Let's assume one developer will spend 25% of his time on ongoing maintenance device support. This can cost up to €2,000/month–plus the cost of data, such as address lookups, which can amount to €500/month.
Again, there is the opportunity cost to consider. A DIY-solution can lead to some conversion uplift, but this may not be close to the average of 18% that Checkin.com delivers.
Even if a DIY-solution delivers a 10% conversion uplift, the difference in value generation amounts to €40,000/month in lost value (180 vs 100 additional registrations * CLTV of €500).
| Maintenance Phase | Per month |
| --- | --- |
| 1. Ongoing maintenance and device support | €2,000 |
| 2. Data cost (without scale in purchasing) | €500 |
| 3. Ongoing value foregone | €40,000 |
| Sum of on-going cost and lost value in perpetuity | €42,500/month ongoing |
Compromised quality

Building software in-house, unless it directly aligns with your core competency, means relying on assumptions instead of years of iterative development.
DIY solutions face difficulties in software testing due to the need for multiple support teams to handle routine debugging, given the interdependencies between components.
Furthermore, studies show that 56% of large IT projects fail to meet their original vision and are launched with compromised features and value.
Considering the future quality of a component is also crucial. A vendor is likely to continuously add and improve features over time, but can your organisation do the same for an in-house service?
Hindered market responsiveness

Developing an in-house solution can take months of dedicated team effort. According to a survey, the average medium-sized IT project takes five months to complete, with some projects taking 7-18 months.
Inhouse solutions often have long lead times to modify processes or adjust workflows, hindering speed-to-market when you want to expand into a new region.
Implementing changes to accommodate evolving regulatory requirements in your existing markets can also be challenging with in-house development.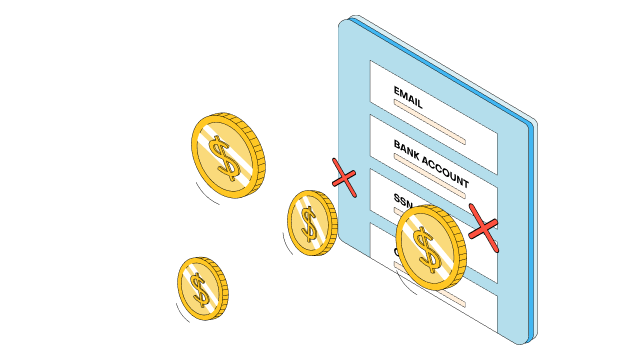 Opportunity cost

Allocating internal resources to KYC development means diverting them from other business functions. It is crucial to carefully evaluate the opportunity cost of not prioritising core objectives and revenue-generating activities.
For example, Tim Cook believed that Apple should only own and control the primary technologies behind their products and participate in markets where they can make a significant contribution.
Focus on whether building your own KYC/AML flow, something that just helps acquire customers and stay compliant but is not your unique offering, justifies a long-term strategic investment of your team's attention.
Suboptimal user experience
Ensuring a top-notch user experience is vital for attracting and retaining customers. 67% of consumers cite bad experiences as a reason for churn.
For a company with 5,000 signups per month and a customer Lifetime Value (LTV) of €5400, even a 1% loss in conversions would result in a  €250,000 in value creation lost every month.
For businesses with different CLTV and different number of monthly signups, a 1% conversion loss looks like this: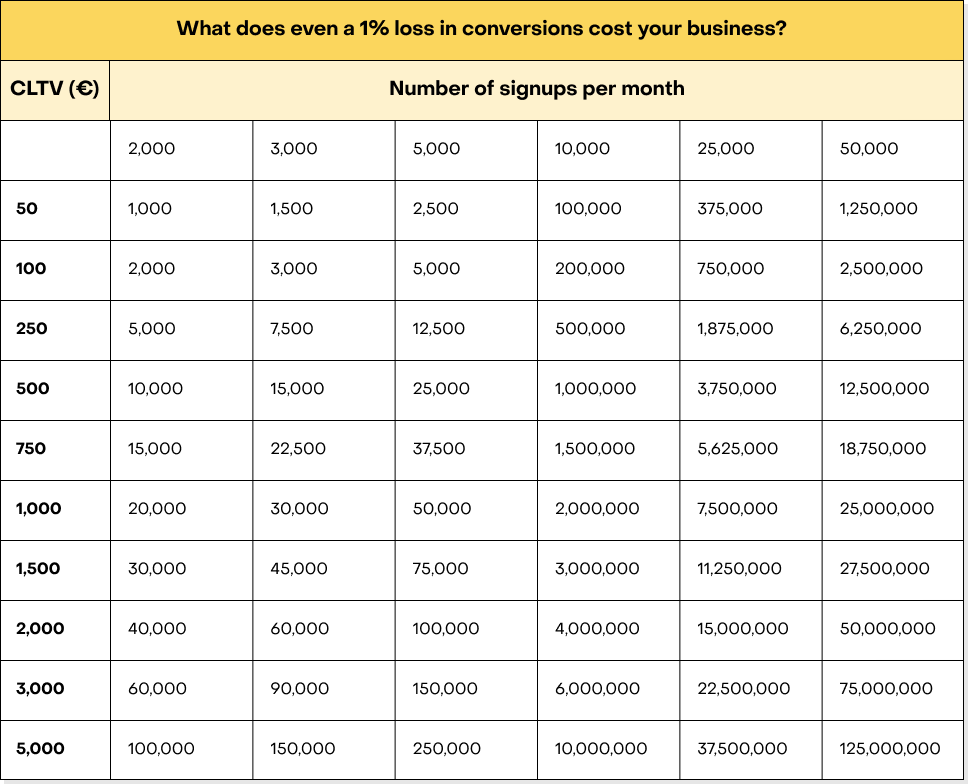 Possible compliance failures
The complexity of developing AML checks cannot be overstated. Errors in any of the CDD features from identity collection, verification to ongoing monitoring and fraud detection can lead to gaps – and fines.
If you plan to automate any of these features and reduce manual time, you would need sample data to train the AI/ML algorithms and detect suspicious activities. But the data inhouse crypto and iGaming teams use is usually off-the-shelf data that is improperly tagged, leading to ineffective detection.
Moreover, any bugs in integrating AML features as you expand to new jurisdictions can also lead to fines and consequent reputational damage.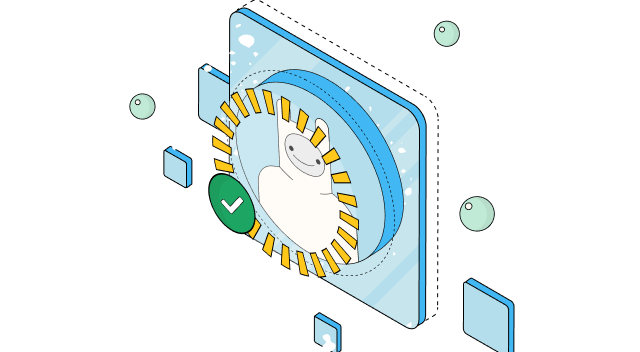 Potential security breaches

Crypto and iGaming companies hold a vast amount of sensitive customer data. When building the solutions in-house, it becomes your responsibility to ensure safe and secure capturing, storing, and encrypting of personal data, along with getting any necessary cyber security certifications.
The repercussions of a data privacy or security-related incident, such as a data breach, can result in significant reputational damage and loss of customer trust that can be hard to gain back.
To combat these troubles, companies are choosing to outsource the development and maintenance of their KYC checks. But is it legally feasible?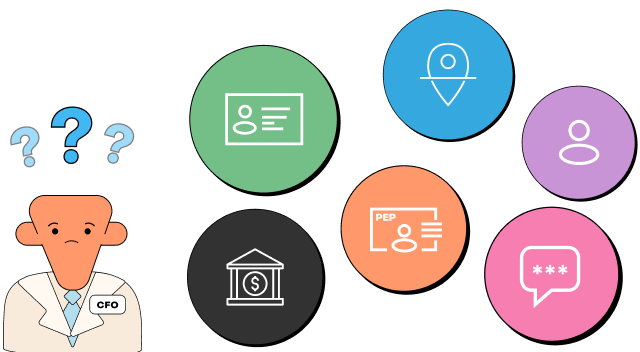 Can you outsource KYC?
Yes, you can legally outsource your KYC flows as long as your selected vendor has the necessary vendor licence in all the geographies you operate.
When selecting vendors, you should also confirm if they have access to all the Politically Exposed Persons (PEPs) and sanctions watchlists that you need to run your users through; and if they support all the documents from all the regions you operate in. Vetting the vendors for their cybersecurity certificates and protocols is also important.
There are two ways to go about outsourced KYC - patching different data collection and verification solutions together, or implementing a holistic customer onboarding and KYC software that takes care of everything. Let's look into each.
Patchwork Compliance Creates More Problems

The current compliance registration market is fragmented — most companies need to patch together disparate solutions to build a complete onboarding flow, such as:
| Fragmented KYC services | Description |
| --- | --- |
| Data collection software | Gathers and aggregates data from identification documents, databases, and online platforms. |
| ID scan software | Verifies the authenticity of identity documents. The software analyses information on the document, such as photos and personal details, and compares it to a database of known valid documents. |
| Proof of address software | Confirms a user's place of permanent residence in accordance with KYC requirements. |
| Bank statement verification software | Verifies the authenticity of a customer's bank statement, ensuring that it's not a fake or altered version. |
| OTP and SMS verification software | Sends a unique one-time password (OTP) to a customer's phone via text message, which the customer then enters into the website or app to prove their identity. |
| Age verification software | Uses various methods such as ID scanning or facial recognition to verify if customers meet the age requirement enforced by the government to use a service or complete a transaction |
A lot of resources go into researching, sourcing, and negotiating the right service provider for each stage of the onboarding and KYC process and combining all of them into one coherent sign-up flow. On average, this can take 3 to 6 months to complete.
Having just one solution isn't enough either. Even if you're currently using an ID scanning software, you still need to build a signup flow to collect, validate, and verify users' data.
Expanding to new markets adds more complexity as different regions have their own regulations, thousands of unique ID types, and additional third-party services that have to be connected. You would need to repeat each flow in a new market, leading to additional costs and delays, reducing your speed-to-market.
Fortunately, there is a better, more efficient way.

Streamlined Success: The benefits of implementing an A-Z onboarding and KYC solution
Embracing a comprehensive end-to-end KYC/AML managed service offers several advantages:
Time and cost savings
Opting for an end-to-end solution significantly reduces the time and effort required for development, integration, and maintenance. It saves time for not just developers and UX designers, but also the compliance teams. It saves costs associated with hiring specialised personnel and eliminates the need for extensive negotiations with multiple vendors.
Automation and advanced technologies
Pre-built solutions leverage artificial intelligence and machine learning to analyse extensive data sets to automatically and quickly collect data, verify users, monitor transactions, and report fraud. These technologies offer accuracy, efficiency, and improved customer due diligence.
Localisation and optimisation
Companies specialising in building user sign-up solutions have all the necessary data based on millions completed user sign-ups, localization solutions and frameworks, and access to various 3rd party verification services needed to build a localised registration flow. This not only offers better optimisation than manual tweaks, but it also frees up your in-house UX team to work on your core offers instead.
Increased ROI from marketing and sales investments
Marketing and sales activities yield better results and higher ROI because of increased conversion rates, resulting in improved profitability and business growth.
Better planning and forecasting
With an integrated user onboarding solution, you clearly know the costs involved in advance, unlike an in-house development. This helps with better financial planning, forecasting, and risk management.

Automated KYC processes can help businesses reduce costs, improve conversion rates, and increase speed-to-market.
If you choose a professional signup optimising software like Checkin.com, you can save a lot of the headache, time, and money that comes with building KYC flows for multiple markets.
Here's why:
✔️  All our clients had pre-existing registration flows that they tried to optimise as much as they could - and Checkin.com still delivers a significant conversion increase.
✔️  We take care of everything through one simple integration - no large one-off development project and no ongoing maintenance required from your end.
✔️  We include third party data services that you might be paying separately for right now, making the financial upside even greater.
✔️  On top of this, we integrate with the world's best verification services that you can seamlessly add to your subscription.
Checkin.com is focused on one thing, and one thing only; improving your registration flow. Our framework outperforms every do-it-yourself solution when it comes to generating high-converting and personalised registration flows – and we have data and customer testimonials to back it up!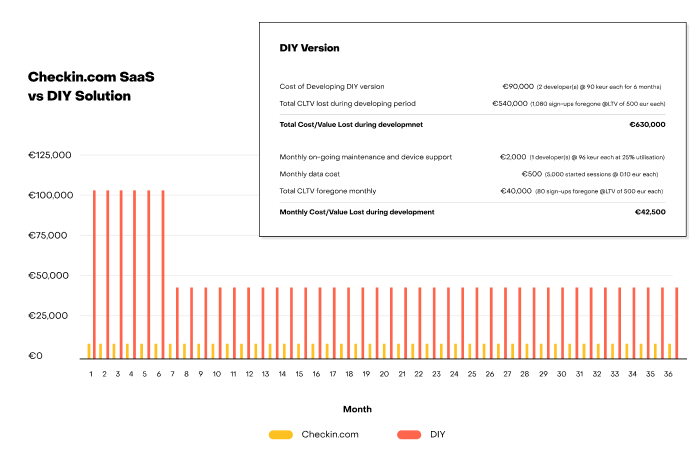 "With Checkin.com, we have been able to open up new countries as a result of our ability to successfully verify clients from countries where previously we did not have such an option."
– Andreas Ioannou, Head of Global Compliance at Admirals
"Checkin.com's ID Scan solution has been seamlessly integrated into our customer onboarding process. The extensive capabilities of the API integration allowed us to solve several tasks more efficiently."
– Valērijs Bikovs, Head of Internal Automation Department at DECTA
Nail KYC Compliance at a Fraction of the Cost
While the idea of building an in-house KYC/AML flow may appear attractive at first glance, the associated costs, complexities, and limitations often make it financially impractical.
Similarly, integrating multiple applications together is also complicated and hinder scalability.
Instead, embracing an end-to-end KYC/AML solution that offers customisation, automation, integration, and localisation capabilities proves to be a more efficient, simple, and cost-effective approach. An integrated compliance solution Checkin.com can help you cut costs, increase regulatory compliance, and boost conversions at scale.