User sign-up KYC flow is the first interaction of users with your business or service.
Sign-up flows can be complex since the user registration can usually involve multiple steps throughout the process: user data collection, localization features, different devices, identity verification, address lookup, connecting to different platforms for logins and payments. The complexity of the sign-up process can often lead to users abandoning the registration process for a particular service thus negatively affecting the conversion rates.
For example, the average conversion rate for paid traffic within the financial industry sits at 4.17% (according to the Wordstream benchmark report). This means that more than 95% of hard-earned users would never complete the registration process because of the tedious registration flow.

In the digital age the users are getting more and more impatient - they want to get the access to a service in a matter of moments.
Thus, creating a smooth sign-up flow experience is crucial to your business success.
In this article we'll explore the main challenges for sign-up flows and how using professional solutions for user sign-up flow can benefit your business website or app.
Personalization matters more than ever
Personalizing user experiences is key to creating a positive first impression and establishing great relationships with your customers.
It's totally possible to research user behavior within a particular segment (like country or demographics) and create a somewhat personalized sign-up flow for a given category of users.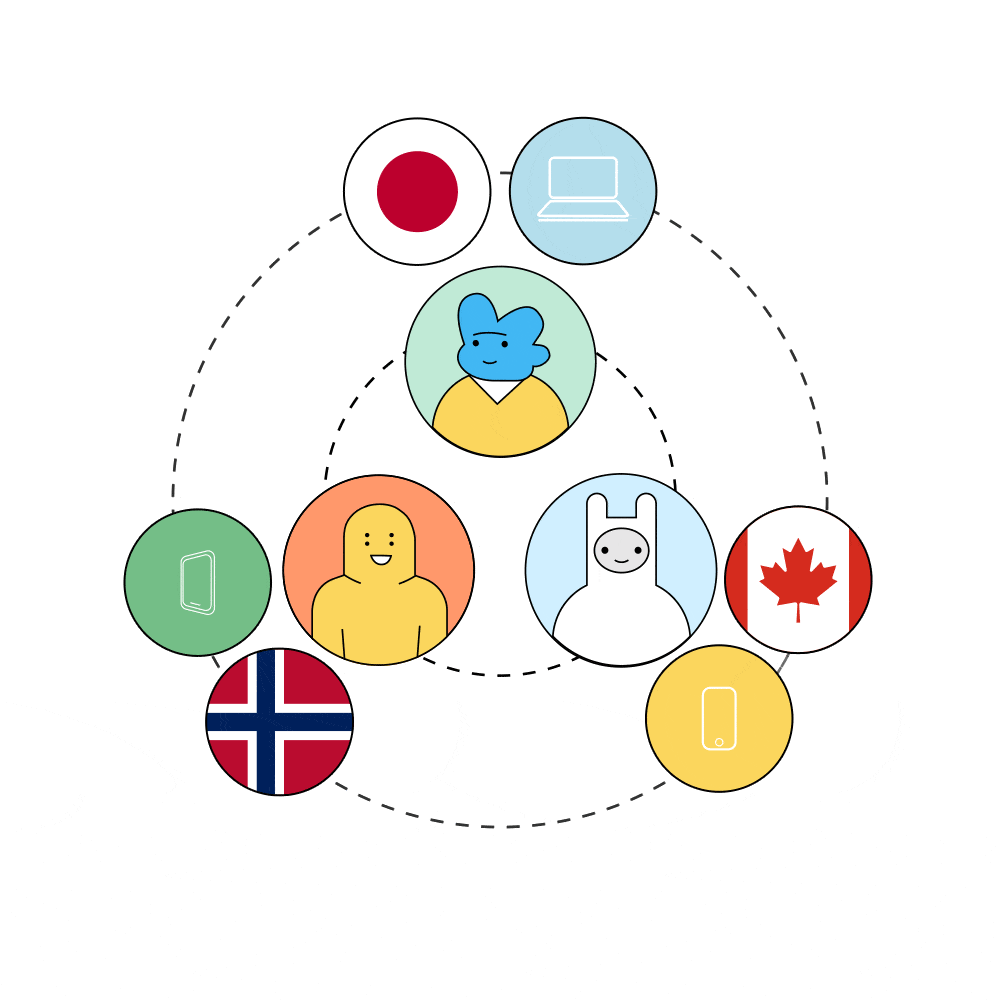 However, it quickly gets complicated when your business starts to expand to new markets. Then you realize that users who visit your company's website or app have so many attributes to them like location, spoken language, devices, and online behavior. At this point, personalization at scale becomes a complicated and expensive undertaking.
Failing with personalization
Lower conversion rates
Bad customer experience
Compliance is crucial for expansion into new markets
As you might know many companies (especially those in the financial sector) are obliged to comply with global and local regulations. Because of that companies need to verify their customer's identities during the sign-up process. These checks, depending on regulatory requirements, can include ID document verification, liveness checks, AML Screening, Proof of Address, social security number checks and more.
All of this can make the sign-up process cumbersome, fragmented and overly complicated.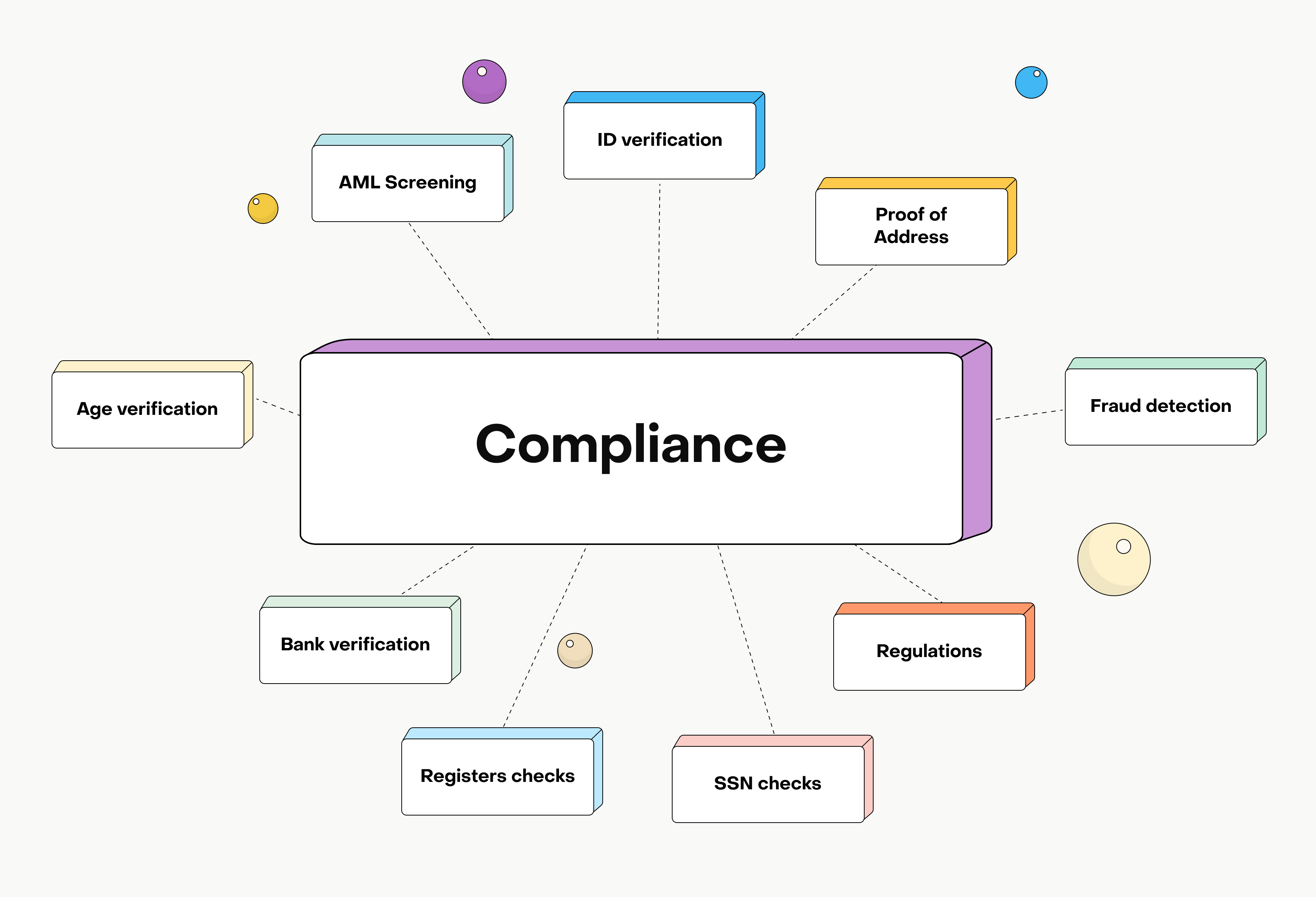 Comparing, testing, and integrating different KYC/ID Verification providers takes time, as it does with implementing all the other solutions needed for sign-up flows needed for a particular business. And again, expanding to new markets adds more complexity as different regions have their own regulations, thousands of unique ID types, and additional third-party services that have to be connected.
Failing with compliance
Regulatory issues
Unsafe for customers
Correct data collection and validation simplifies the KYC sign-up process
As we've already discussed, sign-up flow can be a fairly complex process which often involves using multiple third-party tools and data sources.
Firstly, user data needs to be collected from every step of the registration process.
Secondly, all this data has to be validated. Accurate data is crucial during the user acquisition process. That's why we're providing special modules for email and phone number validation.
Failing with data collection and validation
Missing or fragmented customer data
More complicated sign-up flow
Optimized end-to-end KYC flow for more conversions
Companies are spending a lot of resources to acquire new users to use their product or service.
Once people land on your website or app and are ready to take action, they expect the sign-up process to be fast, seamless, and secure. Otherwise, a negative first experience will result in user abandonment and potential customers turning to competitors.
Creating a high-converting user registration process quickly becomes a challenging task taking into account all user's data that needs to be collected and validated, testing and integrating several third-party tools, localization, user testing, design and implementation.
Failing with conversions
Wasted customer acquisition budgets
Low conversion rates
Bringing it all together

Let's take a look at one example. iGaming businesses are heavily regulated in many countries across the world. As an example, a brand looking to launch in Netherlands would need to perform user verifications, gather user data, and handle the logins in a specific way during the user sign-up process. Before all of this can be set up, a business would need to find a suitable identity verification provider, implement the CRUKS and BSN checks, and more.
As already mentioned, testing and integrating different KYC/ID Verification providers takes time, as it does with implementing all the other solutions needed for sign-up flows needed for a particular business.
The next step would be to combine all of these solutions into one coherent sign-up flow.
On average this process can take anywhere from 3 to 6 month to complete.
Alternatively, it'd be much more time- and cost-efficient to use a professional sign-up flow solution. Companies specializing in building user sign-up solutions have all the necessary data based on millions completed user sign-ups, localization solutions and frameworks, and access to various 3rd party verification services needed to build a perfect registration flow.

The simplicity of integration matters
One of the big advantages of using professional sign-up solutions (like Checkin.com) is that a sign-up flow can be seamlessly installed into your website or app through simple front-end integration. All the third party services are available through the "plug-and-play" framework.
Ready made solutions save you time and money
Many companies have tried to optimize their existing sign-up flows. While it's totally possible to develop a great sign-up solution in-house, it comes at a great cost.
As mentioned, there are many costs involved in developing a DIY sign-up solution. Some of these costs are related to:
Development and maintenance
Various verification solutions for different markets
Additional data-sources
Localization

On the other hand, a professional sign-up solution has done all the heavy lifting at bringing all these fractured services and data together into one optimized flow. All you have to do is to select the services you need.
Are you curious to find out how we can help your business to optimize your user sign-up process, create a better user experience, and boost your conversion rates? Simply schedule a meeting with our team and we'll find a perfect solution for you!